Convenience + safety: the future of contactless payments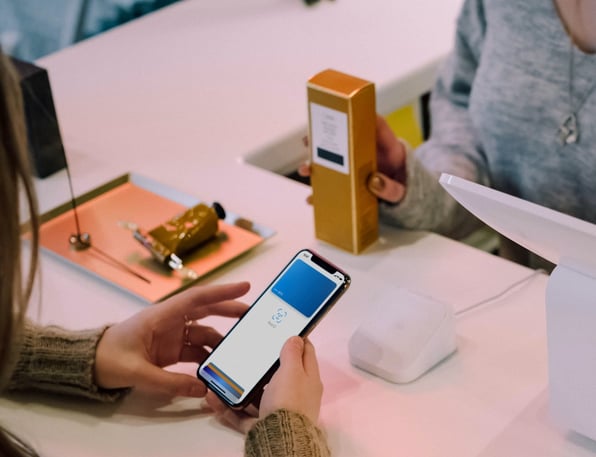 Find out why contactless payments are the future in a post-COVID-19 world (for both safety and convenience), and how you can use your digital wallet with Bakkt.
As we venture out of our homes and into physical stores again, there's no doubt that we'll be greeted by various changes to our shopping experience in the wake of COVID-19. It's no surprise that contactless payments are on the rise. In fact, contactless payments in the U.S. have risen 150% since March 2019, even before vigorous hand washing and social distancing became the norm.
In early March the World Health Organization (WHO) warned that cash may be capable of spreading coronavirus. While new research deems this risk to be minuscule, out of an abundance of caution many people have made the switch to contactless payments, taking the physical handling of money out of the equation.
With a more widespread adoption of contactless payments comes the ease of using your digital currency and digital wallet to pay, which is safe, fast, and gives you the opportunity to utilize digital assets you may not have even known that you had. Soon, with the Bakkt App, you'll be able to aggregate, convert, send and spend digital assets like loyalty and rewards points, cryptocurrency, gift cards and gaming assets. Make sure you sign up now to get early access to the Bakkt App!
Wait, what is a contactless payment?
Contactless payments are a way of paying for goods and services without physically swiping a credit card or handing over cash to another person. For example, the Bakkt App is an e-wallet that will enable you to pay with your digital assets with a virtual, contactless card. The contactless exchange of funds, either by tapping your phone or through peer-to-peer payments, is not only faster and more convenient but eliminates money handling concerns to boot.
How do contactless payments work?
Contactless payments through the Bakkt App can be made using the Bakkt virtual debit card wherever Google Pay or Apple Pay is accepted, in stores or online. Both services use Near-Field Communication (NFC), a secure payment method used when there's a small distance between the register and your phone.
Contactless payments as the future
Accenture recently pointed to contactless payments as the single largest long-term impact that COVID-19 will have on businesses. What's more, MasterCard recently asked 17,000 consumers in 19 countries about using contactless payment for purchases. 79% of those polled said they're using a form of contactless payment now, 74% are planning to use one post-pandemic, and a whopping 82% view contactless payment as "the cleaner way to pay".
So, what's going to happen?
While we don't have a crystal ball to predict the future, all signs seem to be pointing towards contactless payment becoming more and more common. What does this mean for you?
1. Less time waiting in lines
Fewer people counting cash and coins or digging physical cards out of their wallets means you'll be in and out of checkouts quicker than usual. Just make sure to have a contactless payment method ready to rock, tap your phone, and you'll be on your merry way.
2. Your digital assets will become even more important
If you're already paying with your digital wallet, why not use the digital assets you already have on hand rather than dipping into your bank account? Plus, your bitcoin balance may come in handy as more retailers begin to accept bitcoin as payment. With the Bakkt App, you'll be able to spend, send, and trade bitcoin, plus have instant and convenient access to your other digital assets like cash, loyalty and rewards points, airline miles and gift cards for everyday purchases.
3. Consolidated spending
With the Bakkt App, you decide how you want to pay – with all of your digital assets aggregated into one single place, you can choose to convert some of your digital assets into cash, rather than rooting through your wallet.
While we are all still getting used to shopping in this new normal, rest assured that by choosing to use contactless payments you're taking full advantage of their safety and convenience with a few simple taps of your phone.
Maximize the value of your digital assets and get the benefits of contactless payments - sign up for early access to the Bakkt App!