How innovative loyalty reward strategies can boost your loyalty program

Look at the typical consumer's email inbox, and you're likely to see an inundation of messages from different loyalty programs, all clamoring for attention. This isn't happenstance. American households today belong to an average of 16.6 loyalty memberships1 Hotel chains, restaurants, and other retailers are all trying to build loyalty with customers. In fact, the market size for global loyalty management was valued at $4.54 billion in 2021—and is only expected to grow.2 Despite this continuing growth, many brands are still struggling to achieve their loyalty goals. What's the problem? It's not the lack of loyalty programs or memberships in the market.
For many loyalty programs, the problem lies with the rewards being offered. Many brands are failing to provide the value and experience that will connect consumers to their brand, leading to fewer active memberships and higher levels of point breakage. In short, customers sign up, but they don't end up redeeming points and developing the relationships the programs were created to build. It is this engagement — not just membership — that drives loyalty. For 86% of customers, actively participating in a loyalty program makes them more loyal to the brand.3 While engagement may be an end goal, it's not a strategy. We believe the key to achieving this long-lasting consumer affinity lies in extending the brand experience into more meaningful moments of interaction.
Barriers to experience
Fortunately, research shows us some of the most common reasons customers don't evolve from loyalty program member to active redeemer: 
Rewards are too hard to earn. 

If it takes years to accumulate enough points for one free flight, hotel stay, or even just a smoothie, or if customers must jump through hoops to make sure they get credit for spending, they're likely to lose interest. Right now, only 22% of loyalty program members say the effort required to get a reward is reasonable.4

Rewards aren't fungible.

 Instead of waiting until the next time they use the particular business where they earned the points, 70% of consumers would like to convert those points into cash or other digital assets,5 so they could spend them anywhere. 

Rewards expire. 

There is nothing more frustrating than saving up points for years, only to log into your account when you're finally ready to use them and find that they're all gone.

Rewards can be impersonal.

 If the reward is a free milkshake and the customer is lactose intolerant, it's not going to be redeemed. 

Redemption options are limited.

 In a survey, consumers listed "multiple options for redemption"6 as their number-one need. That's not happening in a lot of programs. 
---
Which loyalty strategies can help brands

drive engagement and increase ROI?

Our latest report, "Accelerating Loyalty Value to Drive Engagement and ROI" has the answers.

Download report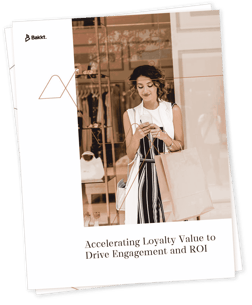 ---
How can program owners increase engagement and build a more connected experience for members?
There are ways for brands to increase engagement, heighten the experiential value customers gain from membership, and increase their Return on Rewards Investment (RORI). In general, the programs that are doing the best offer customers more choices and flexibility, using options like:
Loyalty commerce.

 Under this model, members don't just save up X number of points for the same old reward. They shop with points, miles, or other digital assets for a wide range of rewards at different price points.

Meaningful interactions.

 Increasing the amount of engagement is good, but it's not everything. To be truly valuable, each interaction with the brand — across all channels — should also strengthen the relationship. 

Connected partnerships.

 Even if your company only sells one thing, partners enable you to offer a range of products and experiences such as travel, gift cards, and merchandise rewards as redemptions. Branded storefronts are one way to make this happen. 
These strategies are powerful because they open loyalty currencies, bring them closer to everyday commerce, and introduce new, unexpected opportunities for unlocking value. With more pressure than ever to focus on the core business, many brands won't want to reinvent the wheel to offer all these options. That's when it can pay off to work with a service like Bakkt® Loyalty Solutions, which can leverage these capabilities to add flexibility and value to rewards programs. Modern loyalty programs are naturally concerned with engagement—as they should be—but they should be equally focused on creating a cohesive brand experience for members, where rewards are connected, accessible, useful, and enjoyable.
A few of the companies that have been getting creative to inspire loyalty:
Starbucks Odyssey, an expansion of the coffee chain's Starbucks Rewards program, includes multiple rewards innovations, including NFTs, virtual experiences and live events.8 Starbucks also recently linked its loyalty program to Delta Airlines, allowing customers to earn Delta miles when they buy coffee.9
Target and Ulta have been sharing physical space lately, but they're also sharing space in their customers' hearts by allowing customers to link their Ulta Beauty Ultamate Rewards to their Target Circle accounts. Once the accounts are linked, customers can spend their Ulta points at the Ulta mini-stores inside Targets.10
Chipotle has given away cryptocurrency in several promotions, the most recent one waggishly referring to the decline in crypto prices in its name, "Buy the Dip."11
As the loyalty industry continues to expand, program owners can maximize the value of customer signups and create meaningful brand affinity by offering more choices. In the end, the more ways customers have to use their points, miles or other rewards, the more likely they are to have a great experience that keeps them coming back.