Bakkt® Custody
There is no gray area when it comes to crypto custody. Our custody solution is an institutional-grade solution with multi-layered security and can flex to your strategy
Now more than ever, you need confidence, not compromise. At Bakkt, we focus on security so that you can focus on your business. Operated under Bakkt Trust Company LLC, an NYDFS Qualified Custodian, our institutional-grade platform is built on reliable infrastructure by a team that's dedicated to continuous enhancements. Importantly, we never lend or rehypothecate our clients' assets. What's yours is yours.
NYDFS Qualified Custodian
Bakkt® Custody operates under Bakkt Trust Company LLC, an NYDFS Qualified Custodian
Comprehensive Controls
and Regular SOC Reports
Current SOC 1 Type II Reports
Segregated Wallet Management
Client assets are never commingled with company assets
24/7 Response Support
24/7 response support and multi-zone physical storage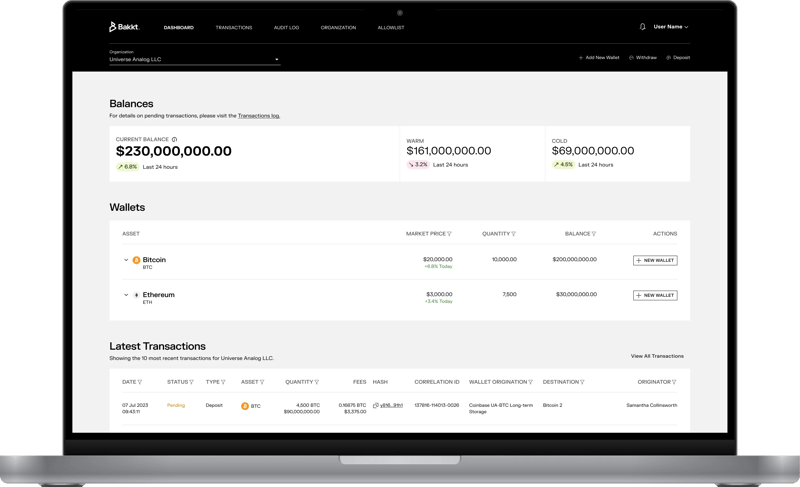 Our Custody platform has several security controls in place, including comprehensive compliance programs for KYC, AML, and KYT. Our processes and controls are reviewed by independent third-party auditors for all transactions and activities. In addition to high-grade security and operational controls, our platform is insured according to policy limitations to protect assets against potential loss, and has an Independent Trust Structure for mitigating regulatory risk.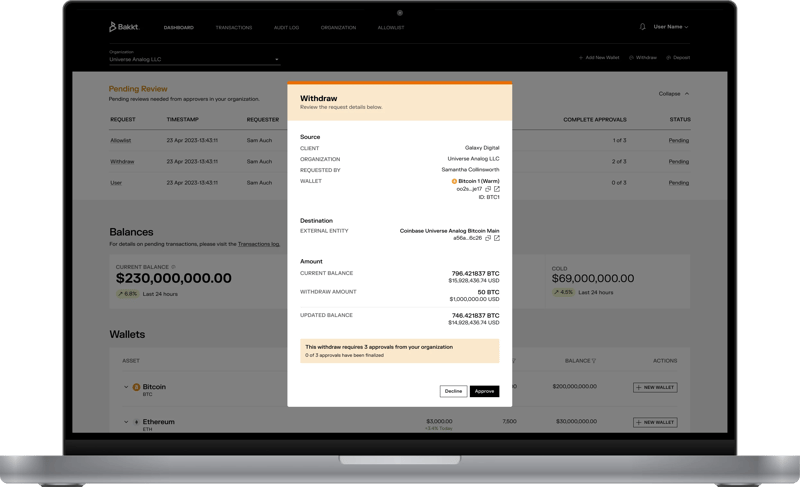 A comprehensive technology stack, robust physical and cyber security protocols, and disaster resiliency are embedded into our operational approach. The Bakkt Custody platform maintains security measures that ensure digital asset safeguarding without compromising ease of asset management. Our multi-layered security encompasses geographically distributed data centers for disaster resiliency, insider threat and anti-collusion controls, and multi-party computation (MPC) technology for wallet key management. We also provide consensus management for reliable transfers and enforce stringent Allowlist qualifying procedures for withdrawals. All in the name of keeping your assets safe.
Get the facts. Download the product fact sheet.
By clicking 'Download,' you confirm that you permit Bakkt to send you marketing updates. You may unsubscribe at any time.
Which assets does Bakkt Custody support? 
Today,
Bakkt
Custody supports
B
itcoin (BTC) and
E
thereum (ETH)
. As a qualified custodian,
we carefully assess risk for each token under custody in our platform to ensure a custody solution that limits customer risk exposure
.
To ensure this standard,
Bakkt
maintains a Listing Policy that has been authorized by the New York Department of Financial Services and
will continue to consider
additional
coin options
that adhere to the Listing Policy
to meet our clients' needs
.
What type of wallets does Bakkt Custody support? 
Our custody solution offers both warm and cold wallet storage with a combined $125m insurance policy.
Our clients' assets are
maintained
in segregated wallets
, never co
-
mingled with company assets. We take pride in being a crypto custody provider that uses comprehensive and proven methods to safeguard your funds, and our wallet protocols are a key part of that.
What is the Bakkt Custody withdrawal process?
Bakkt
Custody's withdrawal process is designed for ease and security.
A client's i
nternal consensus
for any withdrawal request must be reached within the organization,
followed by a review from
Bakkt
Support
which is typically processed within one business day
.
There is
also
a 48-hour holding window
as an
additional
security measure
for newly Allowlisted addresses
.
Clients are notified via email
once withdrawal
s
ha
ve
gone through. Our crypto custody services take a sophisticated approach to risk management, and safeguarding protocols are embedded throughout the platform.
What is Bakkt's approach to risk and security?
We're
glad you asked.
Bakkt
has a three-pronged approach to security that encompasses Systems, Operations, and Facilities. From the daily activities of our team members, to carefully executed digital verification methods, our custodial solution embraces security at every level.
Read about
our
comprehensive approach to risk management
.
How does Bakkt optimize Disaster Resiliency plans?
At Bakkt, we understand that Disaster Resiliency is key to managing digital assets responsibly. To this end, our highly available platform is replicated in real time to secondary regions capable of supporting all production workloads. Our crypto custody service is built from the ground up to offer a safe and secure environment for managing funds—even when the unexpected occurs.
Read our latest blog post