Advice for business leaders wondering about crypto and digital assets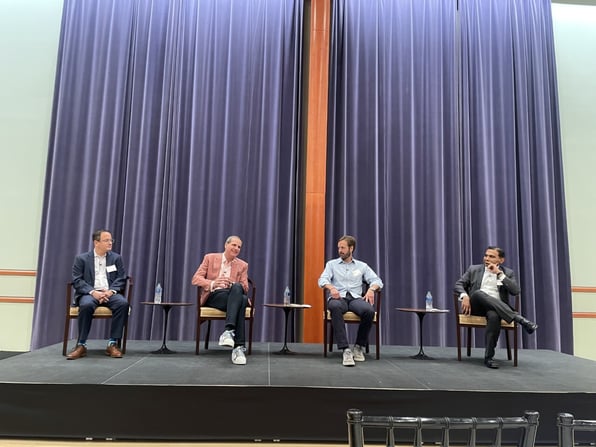 By Gavin Michael, CEO and President of Bakkt
A few weeks ago, I joined a panel to discuss how digital assets are changing businesses today. First, it was great to see the variety of businesses and business leaders who are interested in this space and working to learn more about how digital assets are changing the way consumers interact.
The conversation covered a lot of ground – the basics of crypto, business applications of digital assets, the evolving regulatory landscape and how blockchain technology is poised to impact every part of business in the future. It got me thinking of some key pieces of advice for business leaders wondering why they should be following this space.
1. Take the time to learn and evaluate this emerging space
During the panel, we discussed the potential for every industry to be disrupted by blockchain technology. Whether it's today or five years or ten years from now, companies across the digital asset industry are already exploring wide reaching applications of technology that have the potential to change the day to day of every corner of business.
To put this in context of previous innovations, we discussed how transformative the internet was. If business leaders knew what they know about the internet, would they have been an early investor or adopter? In my view, blockchain and cryptocurrency more broadly will change the way businesses transact and grow in the future. From creating new forms of customer engagement and loyalty to improving efficiency by reducing human errors and speeding up transactions, it's critical that business leaders dig in because soon they will be on the back foot playing catch up.
2. Don't let daily price fluctuations across crypto drive your opinion of its relevance
It's no surprise that price movement across cryptocurrency dominates the headlines day in and day out, but price is only a part of the story.
While crypto adoption has grown since bitcoin's founding more than 13 years ago, we believe that only focusing on crypto as a store of value is limiting. Yes, the potential for price appreciation has been a core driver of interest among consumers, but it is only the first use case.
There is actually much more utility and broader customer use cases to come as adoption continues. Bitcoin was founded as peer-to-peer electronic cash, and we see our role as helping to drive both access to digital assets and utility – the ability to buy, sell, send or spend….and acquire.
But, the utility of this technology is even broader and can remove friction from the financial system. The rails of the crypto economy can driver faster payments and settlements, reducing money transfers from days to minutes. It is our view that in the future, there will be people utilizing this technology without even realizing it, since it's mainly taking place behind the scenes.
3. There is not a one size fits all crypto strategy
The applications of crypto to different industries is nuanced. For financial services institutions, like banks, there is an opportunity to offer crypto within their existing digital banking environment to expand their relationships with existing customers and keep their assets within the ecosystem that they already transact in. It's no secret that banks have seen significant outflows to crypto exchanges over the past few years. But perhaps most importantly, the exodus of money is allowing crypto exchanges to build a relationship with your customer. As crypto exchanges expand their offerings……there is a risk that they also expand their relationship with your customers, when instead you can deepen your relationship and relevancy with those same customers and attract new customers, while creating an additional revenue opportunity.
For merchants, crypto can represent a new way to engage with a brand and drive more brand loyalty. What if customers are rewarded in bitcoin every time they make a purchase? Or perhaps there is a gamification component, after three visits, they receive a certain amount of crypto. For an easy entry point, financial institutions or merchants can offer customers these types of options within a loyalty program or align to a credit card offering.
There is also an ability to use crypto rails to move fiat currency behind the scenes, stream payments, or execute micro payments for ease of transactions and faster speed overall.
Consumer demand is leading the charge, but the options and applications continue to grow.
4. Don't go it alone!
This is an emerging space, so lean on the experts. Finding a secure and regulated partner is a critical first step. This space is complicated - add in the technology and regulatory complexities and it can be daunting and expensive. By working with a partner, like Bakkt (shameless plug), you can get started faster and be supported every step of the way.
We work with partners through all phases of the process from regulatory requirements, tax reporting, marketing, educational materials to 24.7 customer care.