Bakkt to take the Lightning Network mainstream, offering UMA support to clients
Today, we're excited to share that we are supporting a new open standard for money transmission: Universal Money Addresses1 or "UMAs". Bakkt® has collaborated with Lightspark2 to be one of its initial partners, and we are pleased to announce the alpha launch of our UMA-capable Lightning service. This new service can be leveraged for cross-border remittances, B2B settlement, instantaneous deposits and withdrawals for trading, or global, interoperable P2P*.
By leveraging our institutional-grade custody platform, best execution liquidity, fiat onramps, money transmission licensing, compliance infrastructure, and now Lightning service, we believe Bakkt is uniquely positioned to serve as the secure and reliable platform powering payments, remittances, P2P transfers, and on and off-ramps in the United States. We are excited to enable this for our clients as together we tear down silos of value in the same way the Internet tore down silos of information.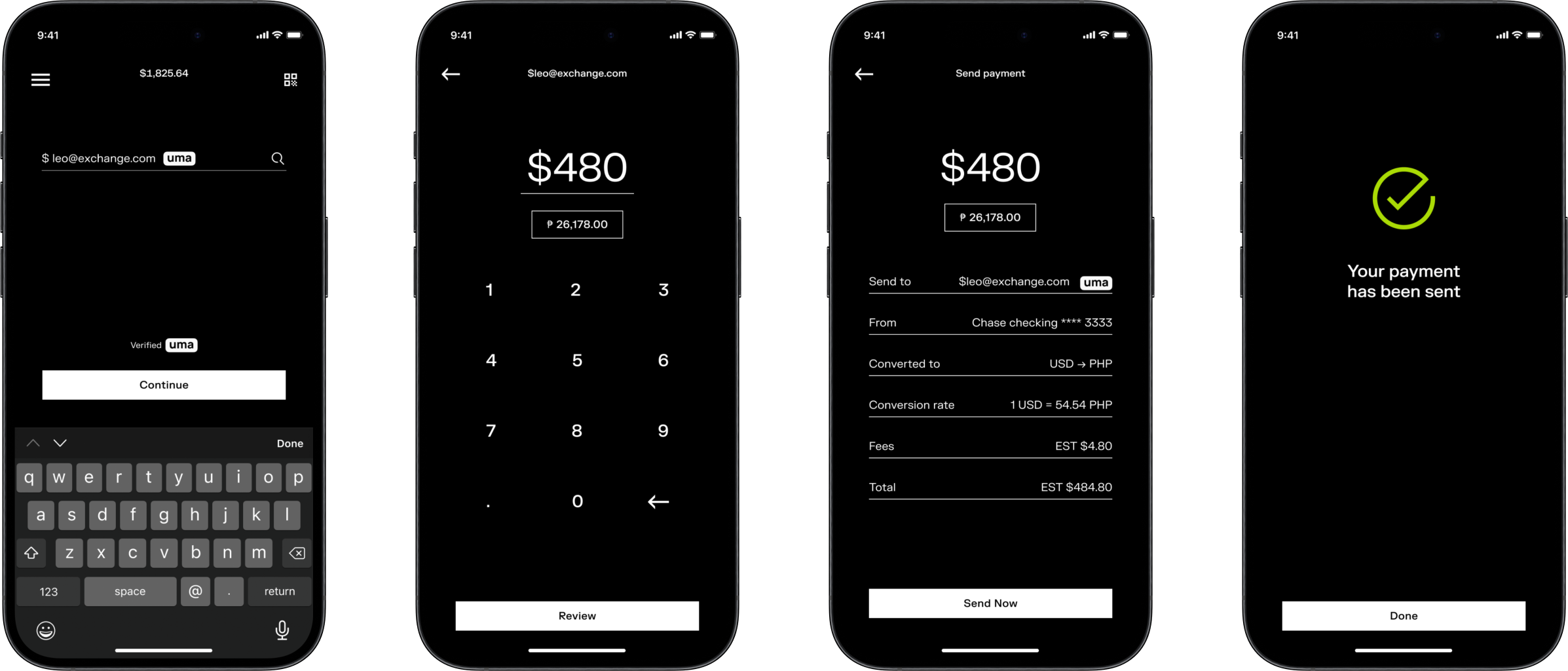 Simple fiat-to-fiat remittance over Lightning with UMA
Spearheading Internet-native payment infrastructure
While trading and custody will always be at Bakkt's core, we have spoken many times about the evolution of bitcoin from a speculative asset to powering everyday utility. We share Lightspark's vision for Internet-native payments, with Bitcoin serving as the neutral, liquid Internet-native asset. Together with Bitcoin, the Lightning Network, a scaling solution that makes Bitcoin transactions instant, cheap, and borderless, forms the backbone of revolutionary payment rails.
But you shouldn't have to be a bitcoin enthusiast to get these benefits. You don't even have to own bitcoin. Much like Gmail users have no need to understand how the protocol that powers email, SMTP, works, mainstream users should not need to understand bitcoin or how the Lightning Network works. These are protocols that should be abstracted away from the everyday user, at least initially, while still delivering significantly more value than other options.
Our clients and their customers need not know or care that bitcoin is being used under the hood. They also do not need to hold bitcoin. We take care of the transaction logistics on the network for them. Bitcoin becomes a money transmission protocol that enables fiat-to-fiat transfers. Bitcoin optional.
Senders can send dollars and receivers can receive pesos— in seconds.
UMA enhances Lightning for businesses
So, the Internet now has a native asset to hold value in bitcoin, and a native rail to transfer value in the Lightning Network. The Lightning Network already has human readable identities with Lightning Addresses. Companies can already convert bitcoin to their local currency and vice versa. So, what's missing?
Usability and compliance.

All the components to create smartphones already existed prior to the iPhone. Vines existed before TikTok. Ingredients alone are not enough for mainstream adoption—they have to be packaged in a way that makes things incredibly simple and convenient for users, and the businesses building products for them. There are excellent Lightning wallets that enable users to send bitcoin between what look like email addresses. But what if one side of the transaction doesn't want bitcoin? Or both? UMA enhances Lightning addresses by adding a protocol to automatically look up what the recipient's preferred currency is. I can send bitcoin and you can receive dollars. You can send dollars and your friend can receive euros. You don't need to know where they are or what they want. Send dollars or bitcoin and let the magic happen.
A huge part of usability is convenience. How many of us run our own mail servers instead of trusting Google to do iIt for us with Gmail? As appealing as being your own bank may be to some of us, most people today don't want to take on that responsibility— they want something that just works. And like in the case of SaaS products such as Gmail, that means companies providing trusted services to hold and transfer value. In most nations, this also means complying with regulation, especially when dealing with money transmission. Here, too, UMA enhances standard Lightning capabilities by adding the ability to check if the recipient is at a regulated Virtual Asset Service Provider (VASP)., It also confirms if the Travel Rule applies and for what amount, and if the end recipient has been verified through KYC, with plugins for popular compliance transaction screening tooling. Since UMA is an extension of LNURL, transactions can gracefully fall back to normal Lightning transactions depending on the VASP's risk tolerance.
Why Bakkt and Lightspark?
Bakkt is a publicly traded company with audited financials that can provide a full suite of solutions—from custody, operating under the Bakkt Trust Company, to trading and onramps. We are also a FinCEN registered Money Services Business with MTLs in every U.S. state that requires one, including holding a BitLicense in New York. This means we are uniquely positioned as a compliant platform, enabled to service all types of businesses and their end users. Our collaboration with Lightspark, in addition to another leading Lightning Service Provider, Ibex, enables a compliant way to leverage the leading Internet native rails for payments without volatility.
The Lightspark team are digital payment veterans. Led by David Marcus — who was the former President of PayPal and leader of payments and crypto efforts at Meta/Facebook— Lightspark's cofounders don't just understand traditional payments, but were also at the heart of Meta's efforts to create Diem (formerly known as Libra). This legacy brings deep experience and understanding to what it takes to create truly Internet native payment solutions.
Bakkt's institutional-grade platform combined with Lightspark's enterprise-ready infrastructure for the Lightning Network, enhanced with an open standard in UMA, make an incredibly powerful combination for any business looking to provide payments, remittance, or peer-to-peer transfer capabilities.


Join our Alpha Program
Bakkt is onboarding select clients within its Lightning service alpha program. If you are a payment, remittance, banking or trading business interested in leveraging our infrastructure for globally Interoperable, instant and cost-effective payments, please register your interest below.