Bakkt goes public – and it's just the beginning!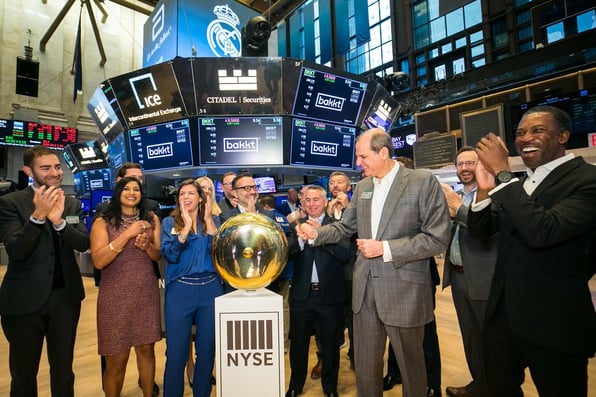 Bakkt reaches another milestone: we are now a publicly listed company trading on the New York Stock Exchange under the symbol BKKT.
Bakkt was founded in 2018 with a unifying vision: we wanted to connect the entire digital economy. Since our inception, we have hit a number of milestones, working behind the scenes to build a platform worthy of our vision – lowering barriers of entry into cryptocurrency, launching partnerships with some of the world's premier brands and adding value to consumers' digital assets by making their rewards and loyalty programs more compelling.
Today, Bakkt reaches another milestone: we are now a publicly listed company trading on the New York Stock Exchange under the symbol BKKT.
Why Our Platform Is Different
Bakkt acts as a profound bridge connecting the digital ecosystem. Our customers fall into three broad categories: Consumers, Businesses and Institutions.
For Bakkt, the name of the game is flexibility. Our platform enables consumers to leverage their digital assets – from bitcoin, to select loyalty points, gift cards and merchant offers – in new and exciting ways. From purchasing your morning cup of coffee with crypto, to converting select loyalty points to cash, to redeeming airline miles towards a new laptop, to sending cryptocurrency or gift cards to family and friends, the possibilities are only as limited to one's imagination.
The Bakkt platform enables companies & merchants to access all of these capabilities, extending engagement with their customers, creating moments of delight while broadening the appeal and daily use of their loyalty and rewards programs. In an age where brand loyalty is no longer taken for granted, creating exciting experiences for consumers – such as crypto services directly in partner brand ecosystems – can be essential to enduring loyalty and driving preference.
Institutions seek our secure infrastructure and capabilities to access cryptocurrency markets, products and digital asset ecosystems. We provide regulatory clarity, better price discovery (thanks to our bitcoin futures contracts) and more effective risk management tools for our customers.
By creating a complementary ecosystem across these three audiences, Bakkt is specifically built to be flexible and enable participants access to a wide array of digital assets.
What This Means for Bakkt's Future
As we take a moment to celebrate how far we've come, we're already building for the next chapter, and the one after that.
And as we move forward, we will double down on what is already underway: building out a broader partner ecosystem, expanding the access and utility of digital assets, and gaining momentum in a space that is continuing to grow exponentially.
Our partners appreciate Bakkt's secure and regulated environment, broad spectrum of capabilities and passion for designing seamless user experiences.
With an amazing team around us, there is no ceiling we can't break through. What we've achieved today would not be possible without the hard work and fortitude of each and every Bakkt team member over the past three years. We have the opportunity to redefine our growing industry, and I am privileged to be on this journey with you all.
Off to the races!
Gavin Michael
CEO, Bakkt