Three qualities to consider when selecting a crypto custodian

Crypto adoption continues to grow, and so does the number of custodians offering secure crypto storage. As those familiar with Web3 know all too well, the unique risks (and benefits) associated with fully digital currencies require an experienced hand and a singular attention to detail. However, with the proliferation of services on the market—and all of them promising to safeguard your assets—filtering through the options can be daunting. A few key considerations can go a long way in making the best choice for your business.
1. Robust security
While highly convenient, an all-digital currency also comes along with certain risks. That's why a high-quality crypto custodian should have multiple layers of security in place to protect against threats such as cyberattacks, theft, fraud, and other types of unauthorized access. 
Some crypto custodians have better technical defense mechanisms than others, so make sure to closely examine the different security protocols that they have in place before entrusting them with your crypto.
What are their risk management practices? Does the custodian utilize multisignature (multisig) wallets that require multiple approvals to authorize a transaction? What kind of encryption do they use? Do they use multifactor authentication? These can all help offer a more complete picture of how seriously they are safeguarding your assets.
---
Searching for a qualified crypto custodian?
Download our product sheet to see the features and security policies that make Bakkt® Custody an institutional-grade custody platform.
Download product sheet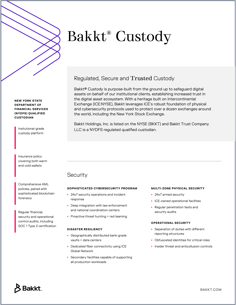 ---
2. Regulatory compliance
It's a good sign when crypto custodians take compliance seriously, since regulations in the industry are still evolving and it takes considerable effort to keep up with changes. As part of due diligence, make sure that the crypto custodian safeguarding your assets is adhering to any relevant laws and compliance standards that are applicable to their jurisdiction—and that they hold any necessary licenses required to operate. 
A good place to start is by looking into whether they are following industry standards such as Know Your Customer (KYC) laws and anti-money laundering (AML) policies, as well as data privacy restrictions. You can also examine any available system and organization controls (SOC) reports, which can offer more insight into a custodian's internal controls. 
3. Expertise
To determine whether your chosen crypto custodian has the required expertise to safely guard your digital assets, consider their reputation and track record. Peruse their website to gage the breadth and authority of their crypto knowledge. Research the custodian's history, customer feedback, and any past security incidents or breaches. You'll also want to look at the financial stability of a custodian, as they should be able to withstand any future challenges that could arise. 
Ultimately, you'll want to choose a custodian with a demonstrated commitment over time to protecting their clients and to keeping their assets accessible and secure.
Choose wisely
Taking the above considerations when choosing a crypto custodian won't eliminate risk entirely, but can help you rest a little easier knowing that you've selected a custodian of the highest caliber.