Become a Bakkt MVP — sign up for our early access program!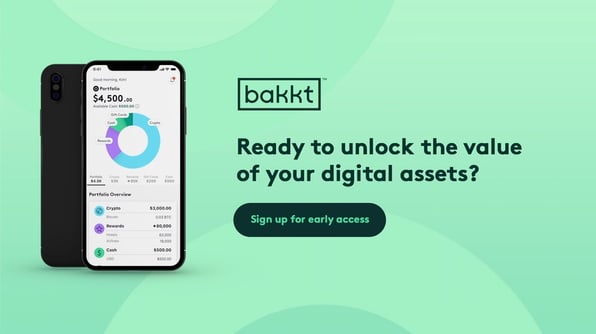 Get early access to the Bakkt App & buy & sell bitcoin, aggregate loyalty points, buy gift cards & more. Unlock the value of your digital assets today!
Bakkt's Early Access Program is live!
Bakkt welcomed our first users into the app this summer, representing an important step toward our mission to unlock the value of digital assets. That mission, first shared in August 2018, is powerful. It encompasses a compelling expansion of exactly what digital assets are. Traditional digital assets – loyalty and rewards points, airline miles, and gift cards to name a few – are a $1.2 trillion market, even before the inclusion of newer digital assets in the form of cryptocurrencies like bitcoin.
Bakkt believes that you hold more value than you realize. On average, the American consumer has 14 loyalty and rewards accounts, though only actively uses seven of them. Think about the airline miles you collected for that one-off business trip two years ago that aren't even a quarter of what you need for an upgrade. Or, the gift cards sitting in the drawer with unknown balances still remaining. All of these assets are collecting dust in the background… but they don't have to be.
Enter the Bakkt App.
Today, we're officially kicking off the Bakkt Early Access Program (you can sign up here!) and inviting users from our waitlist to start using the Bakkt App. Bakkt unlocks the value of digital assets, allowing users to exchange loyalty points for cash, send friends everything from airline miles to bitcoin, and much, much more. We aggregate your points, cash, crypto, loyalty rewards, gift cards, gaming points, and more so you can:
See your digital assets at-a-glance
Convert your airline miles to cash
Send credit card points to friends
Redeem gift cards for crypto
We'll add new users each day, and we'll roll out additional features every few weeks, so you'll have something new to try.
Users in our Early Access Program can expect to see a variety of features in the coming months:
Manage your digital assets in one place and watch your portfolio grow
Aggregate participating loyalty and rewards accounts to see them all at a single glance
Repay your friends, and choose whether it's with cash, bitcoin, or gift cards
Add supported physical or e-gift cards to your digital wallet, so you never forget to spend them
Buy gift cards across a number of popular brands, and choose to spend them yourself or send them to a friend
Buy and sell bitcoin (maybe for the first time!)
Through the Starbucks® app, use cash or bitcoin as a payment method to buy your favorite Starbucks coffee and food
Spend your digital assets using the Bakkt virtual card at any retailer that accepts Apple Pay® or Google PayTM, online or in stores
To be among the first to try out the Bakkt App's new features and payment opportunities, join our Early Access Program to be one of the first to download the app today. We've launched and are ready to bet big on your digital assets.
So, what are you waiting for? Let your already existing digital assets start working harder for you, and spend, send, and trade them knowing that we've got your Bakkt.