Bakkt at ya: send bitcoin, gift cards, and cash to anyone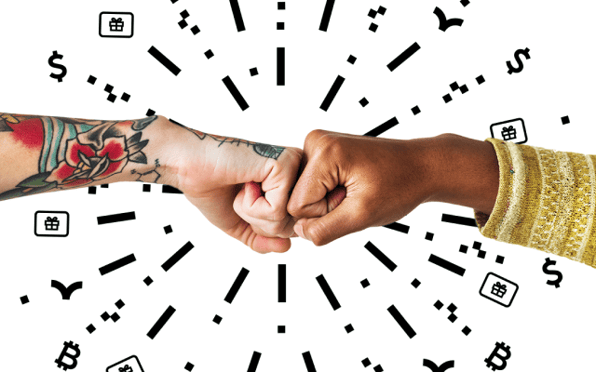 In another step to truly unlock the hidden value of your digital assets, now you can send bitcoin, gift cards, and cash directly from your Bakkt App to anyone's email.
What do gift cards, bitcoin, and cash all have in common? Yes, they're digital assets you can aggregate in the Bakkt® App. And yep, you can manage, convert, and spend them from your app, too. But we're taking it one step further.
Now, we're putting even more power in your hands by letting you send bitcoin, gift cards, and cash to friends, family, and anyone else you'd like via email. We're introducing a new concept we like to call Bakkt at Ya. This means you can use your digital assets in your Bakkt App to use Bakkt at Ya to absolutely anyone.
Tapping into your Digital Asset Potential
Getting it together with the Bakkt App just got that much more personal. Send friends some of your digital assets straight from your app to their email.
Rather than sending your niece $20 for her birthday, send her some bitcoin so she can tell her friends at college. Your brother will thank you for introducing his daughter to something new and helping her dip a toe into the world of crypto.
And when your neighbors check your mail while you're out of town for the summer taking that long overdue vacation, don't write them a boring thank you card that will just end up in the trash. Send them a digital gift card to their favorite restaurant as a quick, personalized thank you. This way, they'll know you paid attention when they told you their favorite place to unwind after a long week, and you don't even need to tell them you got that gift card at a discount through your Bakkt App.
So How Does it Work?
To take advantage of this new feature, first make sure you've downloaded the latest version of the app. Next, all you have to do is select Send from either the Crypto, Gift Card, or Cash screen in your Bakkt App. Then, when you know who the lucky recipient will be, just enter an email address on the Send to screen. It's that easy. And if the recipient is not yet a Bakkt user, we'll send them a link to download the Bakkt App and accept your gift. You'll also get a notification once the user has accepted!
So, who's on the top of your list to send bitcoin?