Tap into crypto with Bakkt and Apple Pay® — it's fast, easy, and secure​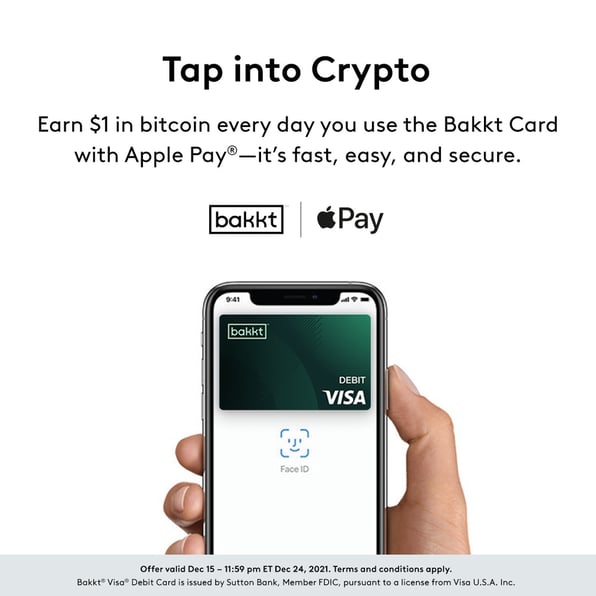 Exclusive new promotion launches December 15
Crypto continues to command the attention of the news, influencers, and consumers at large. It's rare to attend a party or dinner with friends without the topic coming up. Whether you're a crypto pro or crypto curious and just looking to see what all the buzz is about, we have an exciting opportunity for you!
Through an exclusive new promotion that lasts from December 15 – 11:59 pm ET on December 24, you will be able to earn $1 of bitcoin every day* that you use the virtual Bakkt Card with Apple Pay – scoring up to $10 in bitcoin.
How does it work?
Tap using Apple Pay with your Bakkt Card
Earn $1 in bitcoin each day you Tap with Bakkt
Promotion will be live for 10 days, earn up to $10 in bitcoin
Once you've earned your $10 in bitcoin, the opportunities are endless. At Bakkt, we exist to enable anyone to buy it, sell it, send it to a friend, spend it or simply hold it and see where it takes you.
Choose to enter the world of crypto within the daily spending you're already doing!