How we built Bakkt with consumer needs first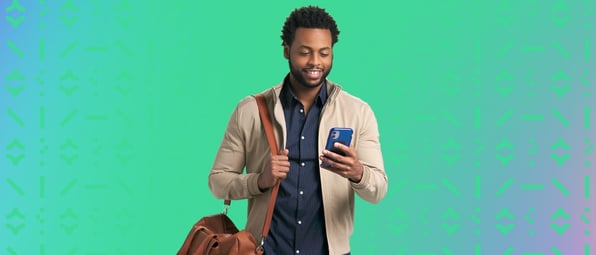 Learn more about the infrastructure behind the Bakkt App that allows you to unlock the value of your digital assets from day one.
Why hasn't it been possible to unlock the value of your digital assets before now? The answer to this question is at the heart of Bakkt and our approach in building an app that's multi-asset from day one. So, what do we mean by multi-asset and what does that really mean for you?
When we first entered the cryptocurrency scene, we saw an opportunity across digital assets for better infrastructure and regulation – ideas that can seem taboo but are of course essential when building financial products and services. It is this infrastructure that allows us to not only aggregate digital assets into one location, but also gives you the utility and flexibility to use those assets how you want. So how did we go about building this infrastructure to support our vision?
Going above and beyond aggregation
The Bakkt App represents a new platform (download it here!) that allows you to aggregate your various rewards programs, loyalty points, and gift cards. Aggregation of digital assets was just the beginning to making the day-to-day management of your digital assets easier. Having everything in one place was the starting point that enabled us to add more functionality to the Bakkt App – like the ability to send bitcoin to friends or convert participating rewards points into cash. It also laid the foundation for upcoming features like the ability to send gift cards to anyone with the Bakkt App and using the Bakkt Virtual Card to pay with bitcoin or cash wherever Apple Pay® and Google Pay™ are accepted.
The Bakkt App breaks down the walls between various categories of digital assets, transforming siloed points and value into interchangeable currency. This infrastructure is what enables you to use points or rewards as currency when shopping online, or even pay for a cup of coffee with bitcoin. This completely changes the game for both consumers and merchants:
Consumers benefit from greater control over their assets and increased purchasing power;
For merchants, this enterprise-grade infrastructure enables a new form of payment acceptance – one that dramatically increases efficiency due to lower costs per transaction and faster settlement times.
How we built it
When building Bakkt, aggregation of various points and programs was essential, but so too were the payments and ecommerce integrations that help create opportunities to use digital assets in ways that have not been done before. With experienced leaders on the team, we've tackled the various challenges that these areas presented, and the end result is something truly unique with the Bakkt App.
The end result
Well, there's no end result just yet! The Bakkt App is available for download (get it here!) and already the experience for consumers is a powerful one – and will only get better as we continue to release features and announce partnerships and integrations. In 2021, people will be able to truly unlock the value of their digital assets – and it's more value than they realize.