Do you crypto?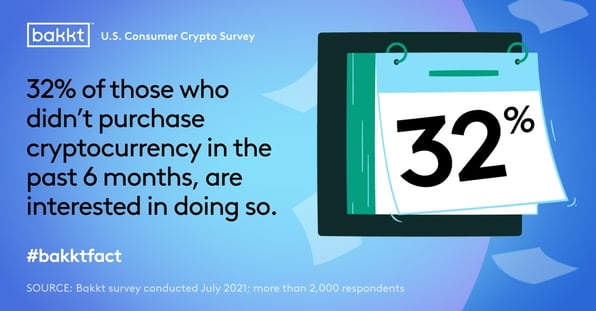 Cryptocurrency is taking the financial world by storm, and more people are hopping on the blockchain bandwagon than you might have guessed.
Cryptocurrency is taking the financial world by storm, and more people are hopping on the blockchain bandwagon than you might have guessed. According to a recent survey we conducted in July 2021 with 2,000 U.S. consumers, nearly half (48%) of respondents had invested some money in cryptocurrency in the past six months. Not surprisingly, this ownership level skews younger in age, with 69% of those who own cryptocurrency being under 44 years old.
The numbers seem to signal that adoption is broad in the US population. Additionally, many people are not holding massive amounts - in fact, our survey showed 20% own less than $100. While 37% of respondents who did not purchase cryptocurrencies in the past six months, ages 18-29 and 30-44, are "very" or "somewhat" interested in buying cryptocurrency this year, 24% of total respondents admit they don't know how to get started and 70% of total respondents said they know a little or nothing at all about cryptocurrency.
So what do you need to know to get started?
Let's start with the basics. Buying bitcoin via the Bakkt® App is easy. Like easier than getting everyone to agree on where to order takeout from. You can start off buying only a small amount of bitcoin (like five dollars worth or 0.00011437 BTC as of 9/23/21) and you won't even be charged transaction fees* for your purchase.
Survey respondents told us that when determining which platform to buy cryptocurrency from, they prioritize cost and fees (27%), ease of use (26%) and working with a regulated exchange (21%). All of which are core pillars to the Bakkt customer experience. We prioritize privacy, security, and compliance within an elegant user-friendly interface.
Bitcoin is yours with five easy steps.
Download the Bakkt® App
Create an account†
Link your bank
Deposit cash
Buy bitcoin
Nearly 40% of survey respondents didn't know that you could buy part of a cryptocurrency like bitcoin. The good news is that even though an entire bitcoin is now more than $40,000 (as of September 23, 2021), you can buy fractions, called satoshi. We are here to make it easy to start small, adding incrementally (weekly or monthly) and starting to tap into a broader definition of possibility.
What do you do with bitcoin once you get it?
The choice is yours! The debate rages on about what people really want to do with crypto. At Bakkt, we exist to enable anyone to buy it, sell it, send it to a friend, spend it or simply hold it and see where it takes you. So regardless of whether you're like the 58% of people in our survey who have purchased crypto in the past six months and see it as a buy and hold play, or you're the 24% who want to use it for making online purchases, or you're part of the 12% who want to use it in a store, or the 11% of people who want to send it to someone else, we are here for you.
Or, maybe you're not sure yet and that is totally cool, too. We will be here when you are ready!
View the full findings from the Bakkt U.S. Consumer Crypto Survey.