Bakkt Digital Assets: The What, How, Why & When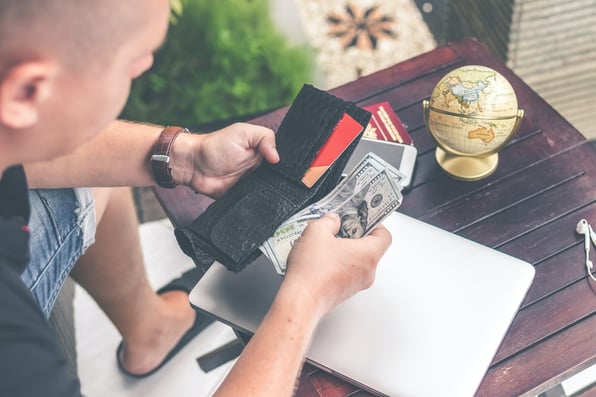 Discover digital assets you didn't know you had, and turn them into cash for purchasing the things you want or need with Bakkt's digital wallet.
As we all collectively navigate this new lack of schedule, and frankly, try to remember which day of the week it is, we're experiencing changes to our routines, livelihoods, and how we go about our day-to-day. Financial uncertainty and asking yourself how to find new sources of income are certainly at the top of many of our minds, and we're evaluating why digital asset management is so important.
The good news is, we're all finding ways to overcome new challenges. Whether it's creating a standing desk out of old books that you're suddenly grateful to have never tossed, experimenting with baking your own bread, or finding new ways to maximize your finances during an unexpected time of need — we're all becoming more agile and inventive versions of ourselves.
At Bakkt, we're here to help you find the money you didn't even know you had by converting your digital assets – like loyalty and rewards points, gaming assets, gift cards, and cryptocurrencies – to cash that you can use immediately. You know that feeling when you pull out a coat you haven't worn in a year and discover money sitting in the pocket like buried treasure? It's kind of like that, but with the digital assets you've accrued over the years, whether you've been aware of their existence or not. With Bakkt, these forgotten digital assets can be exchanged for one another or become an instant source of cash, helping you make more with less, especially in unanticipated times.
Excited to unlock the value of those digital assets? You can sign up for the Bakkt Early Access Program to receive exclusive news and updates, and of course, be among the first to gain VIP access once we launch.
Questions? Check out why digital asset management is increasingly important below, and how Bakkt can help you utilize the value you didn't know you had.
Wait, what are some examples of digital assets?

Digital assets are the loyalty points, rewards, miles, gaming assets, and cryptocurrencies you've earned over the years from various brands that you have stashed (and may have forgotten about) in various digital wallets or accounts.

While you most likely know how much cryptocurrency you have in your e-wallet, when was the last time you checked all of your airline miles across providers, or how much in gaming assets or currency you've acquired in a game that you no longer play? With Bakkt, you can convert these often overlooked assets between one another, or to cash, and transform them into tangible purchases or investments. We provide a system for storing and organizing digital assets through our Bakkt digital wallet.

Where can I find these assets?

Your piece of the $1.2+ trillion digital asset pie might be held in cryptocurrencies, rewards, loyalty points, gaming assets, and merchant stored value that is already in your name. You just have to unlock it by using the Bakkt app to aggregate them all in one place.

Then, how you convert and spend your assets is entirely up to you! Bakkt is creating a digital asset management system that allows you to store all of your customer loyalty and rewards program points in one spot.

After all, they're your points, rewards, miles, and crypto — use and spend 'em how you want.

How can Bakkt help me find money?

Bakkt allows you to flexibly redeem rewards in the manner that best suits you and your lifestyle. Shop for merchandise online, buy gift cards from hundreds of brands, or even score vacations, travel, and event tickets with your Bakkt wallet with accumulated rewards from your favorite customer loyalty programs. You can also send these digital assets or cash to friends, or pay at any retailer that accepts Apple Pay or Google Pay using your virtual Bakkt card.

Simple actions like buying your daily latte to picking up lunch for a coworker provide value in the present and for the future. The points earned in those moments can be converted into miles, turned into cash, used for various purchases, sent to friends, or accumulated in a portfolio that you can use to invest in the cryptocurrency market. Wild, huh?

What can I expect from Bakkt?

The Bakkt app isn't fully live just yet, but later this year you'll be able to convert and spend your digital assets however you want, without some of the hurdles experienced with today's rewards, miles, or loyalty point redemption programs.

Sounds great! Where can I sign up?

You can become a Bakkt VIP and sign up for exclusive updates and early access through our Bakkt app signup page. While the Bakkt app won't be available for a few more months, we're working tirelessly on getting everything up to speed for our Bakkt Early Access Program VIPs and retail partners.

Once you sign up, we'll let you know about upcoming partners so that you can get excited about redeeming your rewards, miles, and points. Plus, you'll be among the first to be able to use the Bakkt app. Sounds like a win/win situation.
Are you a merchant or loyalty sponsor that's interested in partnering with Bakkt? Drop us a line at merchantpartners@bakkt.com – we'd love to talk.